MamaSaid Magic Brushes™
---
Regular price $29.99 now $21.99
Tax included.
Limited time offer, grab yours before the time runs out!
Liquid Powder Foundation Brush for Blending Cream or Powder Cosmetics.
🥰  💖  Create an amazingly looking airbrush finish with any foundation, on any skin type 🌹🌹🌹
Enter the MammaSaid Magic Brush™, with a flawless, smooth, and poreless finish. Be it for your makeup powder, concealer, blush, cream, liquid, or foundation cosmetics, this professional, zero soaking foundation brush provides an impeccable coverage finish in just a matter of seconds. Cut down on precious time and money without blemish!
Unlike other brushes, these synthetic bristles don't fall out and never smudge – always holding just the right amount of product. The hexagonal design also allows for easy gripping and maneuvering for picture-perfect results!
Soft, skin-friendly, dense, fluffy
Expertly crafted with super soft and smooth wool fiber, the thick but plushy synthetic bristles glide gracefully on your face, providing an even distribution without lint.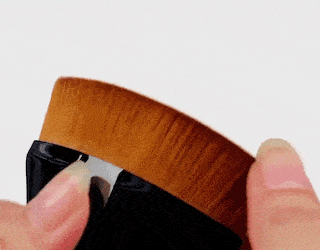 EXTRAS
✔️  Each brush comes with a durable storage box.
✔️  Free Shipping to your location.
✔️  4-10 Day US Shipping by FedEx or USPS.
✔️  Guaranteed 25% OFF on the second brush.
✔️  Only TODAY Extra Discount at checkout!
About MamaSaid
MamaSaid is all about simple moments of joy and positive selfishness not only for young moms. You will find here beautiful, memorable, high-quality items that were designed with care, to make you stay chic. Show off your better self and enjoy life with MamaSaid™.
Why so special?
You are a special one. Our products are special too. We fit together.
By joining MamaSaid community you enter a special club for proud moms.
Emotions? It's not a shame. We are giving away lots of discounts for the MamaSaid club members, and along the way, we will be adding even more high-quality products that fit you. Your passion, your emotions. We like to say; this is exactly the item you need to show off yourself.
High Quality
This MamaSaid Magic Brushes™ was created with care by people for the people living on the living planet that struggles.
We use only high-quality materials including ABS, PC, TPU and Stainless Steel.
TPU is elastic like silicone and resistant like rubber. It has various applications from protective cases to medical tools. What's important it's nice to touch.

PC is hard and translucent. You can find it in Blue Ray discs. What we like about it is that polycarbonate interacts with sunlight bringing nice glows and shades.

ABS is widely adopted in manufacturing toys, even LEGO uses it.

Stainless Steel is a very hard and corrosion-resistant iron-based alloy.


All these materials contain lots of carbon. We mean ALOT of carbon. Therefore, the more carbon inside the material the less in the atmosphere. That's something!
Product care
This item is made with material that is rather resistant for various type of dirt. You can rub it with a soft fabric to clean the surface.
Once you join us on MamaSaid and make a purchase we will email you a detailed product care guide. However, keeping in mind these three rules will help you enjoy your MamaSaid product for a long time: do not scratch, do not use detergents, do not use any sort of oils and greasy liquids (except some sort of makeup brushes).
Enjoy life with MamaSaid!
Delivery
Our standard international service typically takes between 14 and 21 days. The reason for that lead time is that some of our products are hand-finished / made-to-order, so please be patient. For the US-based customers, we try to ship within 4-10 days by FedEx or USPS, and we notice it in the product description. We will make sure your products are shipped as fast as possible!
DELIVERY & GUARANTEES
---
✈️ FREE delivery
🏆 Professional quality products
🚚 Careful delivery
100% secure payment
---
I purchased this brush, it came quickly and I absolutely love it! Works exactly like it says. Blew my mind because I admit I am Often, almost always disappointed in online companies. This product is true blue!
⭐⭐⭐⭐⭐
Jenny L.
The best brush to put on foundation as well as blend contour and blush. It's awesome!
⭐⭐⭐⭐⭐
Tara W.
Treen J.
⭐⭐⭐⭐⭐
Perfect to apply powder, cream or liquid. Probably my best brush ever.
MamaSaid Magic Brush
Multi-purpose makeup brush with foundation brush, blush brush and shadow brush. All in one magic brush.
Do No Wait! Buy 2, Get 25% OFF!
💰 This heavily discounted offer will last only till the end of the day! Hurry up! ⏰
---